From one of the best known names in the world of dispute resolution comes this fresh and innovative podcast full of tips and insights to help you build the mediation or collaborative practice of your dreams, including making money in the process. Susan Guthrie shares her own insights and proven ideas for making it work and brainstorms with some of the top industry leaders so that you can finally let that litigation practice go and be the peacemaker you dream of being!
Episodes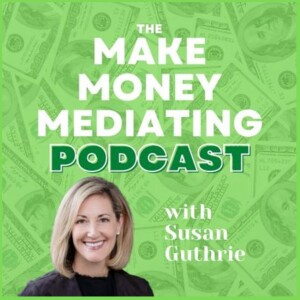 Monday Jan 03, 2022
Monday Jan 03, 2022
New Year, New Practice!  As we enter 2022, many dispute resolution and legal professionals are resolving to grow their business and elevate their practice and in our Season Three opening episode we have the information that you need to get started!  
In a special two-part episode, online mediation expert, Susan Guthrie is joined by Ronnie Deaver, founder of NoBull Marketing, to discuss the critical role that Google plays in marketing your practice.  In fact, Ronnie says if you do only one thing this year in marketing, make your presence on Google the focus!  
This is such a big topic that we have broken it down into two parts.   Part One is focused on "Google My Business" which helps you establish your online presence and create trust in your potential clients.  Ronnie touches on everything that you need to know to make your mark, get those reviews and start moving up to the top of the search engine.  
Unlike many marketing experts, Ronnie is fully transparent and tells you what it takes for you do manage your Google yourself.  He shares insider tips and bottom line numbers and insights for outsourcing this important role.
Be sure to tune in on Thursday, January 6th for Part Two where the focus shifts to Google Ads - don't spend a penny on advertising until you hear this episode!
Check out Ronnie's video on the benefits of Google My Business and Google Ads here:  https://www.loom.com/share/ae9529a188eb4b7c9b9951569a4941d8
Get Ronnie's FREE Marketing Plan eBook here:  https://nobullmarketing.co/#ebook
Contact Ronnie:
More About This Week's Special Guest:  Ronnie Deaver and His 3 Month GUARANTEE!
Ronnie Deaver, founder of NoBull Marketing specializes in helping lawyers and mediators add 5+ cases and $15,000+ in revenue every. single. month using Google My Business and Google Ads. His campaigns are guaranteed profitable in 3 months or less or it's free!" 
Follow Ronnie on Social Media: 
***************************************************************
About Our Host: Susan Guthrie, nationally recognized as one of the Top Family Law and Mediation Attorneys in the country, has been helping individuals and families navigate separation and divorce for 30 years. Susan also is one of the leading experts in online mediation in the country and trains other professionals in the practical and ethical considerations of conducting their mediations online through her business Learn to Mediate Online (www.learntomediateonline.com.)
Susan has been featured in and on media outlets such as CNBC, News Nation, Market Watch, Forbes, Eye on Chicago, WGN, the ABA's Just Resolutions Magazine, Thrive Global, The Nook Online among others. She is licensed to practice law in the States of California and Connecticut as well as before the Supreme Court of the United States.
As a leading dispute resolution professional, Susan is honored to serve on the Executive Council of the American Bar Association's (ABA) Dispute Resolution Section as the Membership Officer and to be a Co-Chair of the Mediation Committee. 
Susan recently partnered with mediation legend, Forrest "Woody" Mosten, to form the Mosten Guthrie Academy for Mediation and Collaborative Law Training to provide the gold standard of training for professionals in an online format. 
Upcoming Mosten Guthrie trainings include:
There are even opportunities to customize your own training program or consulting group with Woody and Susan!
Visit www.MostenGuthrie.com to find out more.
Susan's other Podcast:  Susan's divorce podcast, The Divorce and Beyond Podcast with Susan Guthrie, Esq. debuted on iTunes "Top Podcasts" List for self-help podcasts and is one of the leading divorce podcasts in the country. It was recently named as one of the Top 1.5% of Podcasts Worldwide and Ranked in the Top 3 divorce podcasts in the 2021 Year-End Round Up!  Divorce & Beyond is focused on pulling back the curtain on the mysteries of the divorce process and bringing tips and resources to help people to thrive and shine in their new future beyond divorce.
Follow us on Instagram:  
@susanguthrieesq
@mostenguthrie
Be sure to subscribe to the podcast on your favorite platform so that you don't miss an episode and if you enjoyed this episode, please give us a five star review and leave a comment telling us what you liked!  You can link to the most popular podcast platforms here:  https://learntomediateonline.com/ltmo-podcast