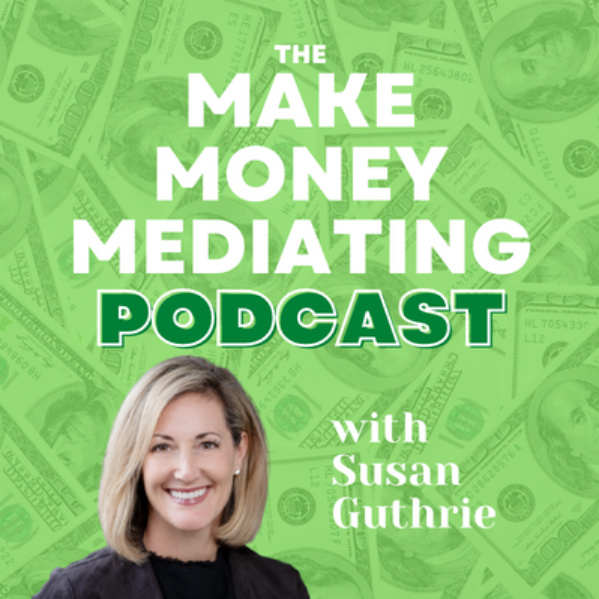 In this informative episode, Susan Guthrie checks in with colleague, Lisa Zeiderman, one of the top family law litigators in the country and managing partner of her own thriving New York law firm, to see what tips a top litigator, and online sceptic, has now that we are two years into the Pandemic and her practice has gone almost 100% virtual!  You will be surprised and enlightened by her new approach to her practice!
Some highlights from the episode:
Lisa's take on her "4 County" life and how going virtual has increased her quality of life
What Lisa has seen Judges and Courts adopt that has streamlined the litigation practice during the Pandemic
Why Lisa is a fan of "consults in cars"
Where Lisa sees her practice, and that of many litigators going from here
What other technologies Lisa and her firm have adopted to make their practice better
Contact Lisa Zeiderman:
LinkedIn: https://www.linkedin.com/in/lisazeiderman/
More About This Week's Special Guest:  Lisa Zeiderman
Lisa Zeiderman is Managing Partner at Miller Zeiderman LLP. A Matrimonial Attorney, CFL and Certified Divorce Financial Analyst, she regularly handles complex financial and custody divorce matters for high net worth individuals. Named to the Crain's New York list of Notable Woman Attorneys for 2022, a Hudson Valley Best Lawyer in 2022, a 2021 Best Family Law Attorney for Client Satisfaction by the American Institute of Family Law Attorneys, among other awards, Ms. Zeiderman is also a founding member of the American Academy of Certified Financial Litigators and a member of the panel for Attorneys for Children.  
In addition to authoring a well-read blog on Psychology Today, "Legal Matters: Understanding Mental Health Issues as They Apply to Divorce and Child Custody," Ms. Zeiderman is regularly published in Financial Advisor Magazine, the New York Law Journal and various other publications,  and quoted on issues ranging from financial empowerment to tax issues to child custody.
Ms. Zeiderman is a Fordham University of Law graduate, and this is her second career, after first working as an entrepreneur in the fashion industry in New York.
She is remarried, has an adult daughter, and also serves as the Vice President of the Board of Savvy Ladies, Inc., and on the board of LIFT, Legal Information for Families Today.  
***************************************************************
About Our Host: Susan Guthrie, nationally recognized as one of the Top Family Law and Mediation Attorneys in the country, has been helping individuals and families navigate separation and divorce for 30 years. Susan also is one of the leading experts in online mediation in the country and trains other professionals in the practical and ethical considerations of conducting their mediations online through her business Learn to Mediate Online (www.learntomediateonline.com.)
Susan has been featured in and on media outlets such as CNBC, News Nation, Market Watch, Forbes, Eye on Chicago, WGN, the ABA's Just Resolutions Magazine, Thrive Global, The Nook Online among others. She is licensed to practice law in the States of California and Connecticut as well as before the Supreme Court of the United States.
As a leading dispute resolution professional, Susan is honored to serve on the Executive Council of the American Bar Association's (ABA) Dispute Resolution Section as the Membership Officer and to be a Co-Chair of the Mediation Committee. 
Susan recently partnered with mediation legend, Forrest "Woody" Mosten, to form the Mosten Guthrie Academy for Mediation and Collaborative Law Training to provide the gold standard of training for professionals in an online format. 
Upcoming Mosten Guthrie trainings include:
There are even opportunities to customize your own training program or consulting group with Woody and Susan!
Visit www.MostenGuthrie.com to find out more.
COMING SOON!  MasterClass with Woody & Susan - A podcast about all things dispute resolution
Susan's other Podcast:  Susan's divorce podcast, The Divorce and Beyond Podcast with Susan Guthrie, Esq. debuted on iTunes "Top Podcasts" List for self-help podcasts and is one of the leading divorce podcasts in the country. It was recently named as one of the Top 1.5% of Podcasts Worldwide and Ranked in the Top 3 divorce podcasts in the 2021 Year-End Round Up!  Divorce & Beyond is focused on pulling back the curtain on the mysteries of the divorce process and bringing tips and resources to help people to thrive and shine in their new future beyond divorce.
Follow us on Instagram:  
@susanguthrieesq
@mostenguthrie
Be sure to subscribe to the podcast on your favorite platform so that you don't miss an episode and if you enjoyed this episode, please give us a five star review and leave a comment telling us what you liked!  You can link to the most popular podcast platforms here:  https://learntomediateonline.com/ltmo-podcast