From one of the best known names in the world of dispute resolution comes this fresh and innovative podcast full of tips and insights to help you build the mediation or collaborative practice of your dreams, including making money in the process. Susan Guthrie shares her own insights and proven ideas for making it work and brainstorms with some of the top industry leaders so that you can finally let that litigation practice go and be the peacemaker you dream of being!
Episodes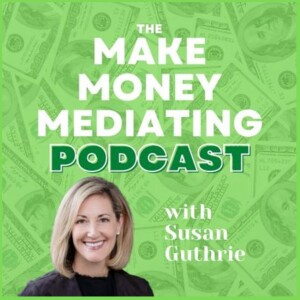 Wednesday Jul 19, 2023
Wednesday Jul 19, 2023
Are you successful?  How do you know?  This episode is all about success and makes the point that you need to define your version of success in order to achieve it. 
Success means different things to different people, and as a professional, it's important to understand what success means to you. Is it financial success? Is it the satisfaction of helping people? Is it building a successful business that provides a comfortable lifestyle for you and your family? 
Listen in and get started on your road to success today!

****** If you found this episode helpful, please consider leaving a 5-Star Rating and a Review letting us know!  Your thoughtful feedback helps the show reach a bigger audience and help more colleagues! *******
*****
Mentioned in this episode:
Mosten Guthrie Trainings and Consulting Groups can be found here:  https://mostenguthrie.com/training
Check out Susan's NEW ChatGPT and Your Practice Program: A 3-Hour Workshop to Help You Harness the Power of AI to Grow Your Practice!  June 28th 9:30am-12:30pm PT/12:30pm - 3:30pm ET.  Use Code "MMMP" for $50 off!  https://mostenguthrie.com/chatgpt-and-your-practice-a-hands-on-workshop-that-will-help-you-supercharge-your-business/
GET SUSAN'S BRAND NEW BOOK!  https://bit.ly/Success-Tips-Book
Get the FREE LinkedIn Newsletter from Susan, "Practice Building Tip of the Day": here: https://www.linkedin.com/newsletters/daily-practice-building-tips-6979857568605114368/
Reach out to Susan at susan@susaneguthrie.com
Book an Hour Strategy Session with Susan and get started on brainstorming your new practice, project or problem: https://calendly.com/susanguthrie/strategy-session-with-susan-guthrie
Websites:
Susan Guthrie: https://susaneguthrie.com
Mosten Guthrie Academy: https://mostenguthrie.com

Social Media: 
Susan on LinkedIn: https://www.linkedin.com/in/susaneguthrie/
Susan on Instagram: @susanguthrieesq
Mosten Guthrie on Instagram: @mostenguthrie
Make Money Mediating on Instagram: @makemoneymediating
Meet Our Creator and Host: Susan Guthrie
Nationally recognized as one of the Top Family Law Attorneys and Mediators in the United States, Susan Guthrie has been at the forefront of divorce practice for more than 30 years. After more than 20 years as a name partner in a leading law firm in Connecticut followed by establishing her own boutique Family Law and Mediation practice in 2012, Susan has in the past two years transitioned into one of the leading family, collaborative and mediation trainers in the world and regularly works with and consults with divorce professionals and attorneys in growing and marketing their practice for a happier and healthier life.
In 2020 Susan partnered with mediation legend, Forrest "Woody" Mosten, to create the Mosten Guthrie Academy to provide cutting edge gold-standard trainings for attorneys, mediators and other professionals. The Academy has grown in two years from one 40-Hour training program to a comprehensive curriculum of basic, advanced and specialized trainings and consulting groups for a vast family of dedicated professionals.
As a leading dispute resolution professional, Susan is honored to have been recently elected as Vice-Chair of the American Bar Association's Section of Dispute Resolution and looks forward to serving as the Chair of the Section in the 2024-2025 Bar Year. She was also recently elected as the ABA Section Officer's Committee Vice-Chair Representative.
Susan is also an internationally renowned expert in online mediation and has been training colleagues and other professionals in the practical and ethical considerations of conducting their mediations online with her innovative programs and webinars for more than two years. To date, more than 25,000 dispute resolution professionals have benefited from her program and she has trained mediators in countries all around the world including programs for the American Bar Association (ABA), the Alternative Dispute Resolution Institute of Canada (ADRIC), and the National Association of Distinguished Neutrals (NADN) among others.
Susan is the award-winning creator and host of one of the top 3 divorce podcasts in the world and one of the top 1.5% of all podcasts worldwide, The Divorce & Beyond Podcast with Susan Guthrie which has more than 5,000,000 listens to date.